Welcome to the site of the Boone County Stars of Indiana!
Special Olympics Boone County is for anyone with an intellectual disability. To be eligible to compete in Special Olympics an individual must be 8 years of age or older; and have been identified by an agency or professional as having an intellectual disability OR closely related developmental disability.
More than 11,000 children and adults in Indiana train and compete through County Programs. Boone County offers year round sports programming in several different sports and ability levels.
All athletes must have a current medical form signed by a physician on file with their county program. The form is valid for 3 years. An application for participation form must be completed before an athlete participates in any Special Olympics training or competition.
Our athletes have the chance to become useful and productive citizens who are accepted and respected in their communities. Special Olympics Boone County receives no federal or state-appropriated funds, is not a United Way Agency, and relies entirely on corporate, civic and individual donations.
There is no cost to our athletes to participate in Special Olympics Sports.
SOBC offers sports year round, see the sports tab for a descriptions of the many sports we offer.
Athletes may participate in more that one sport at a time.
Sports are modified to meet all skill levels, so there are opportunities for everyone.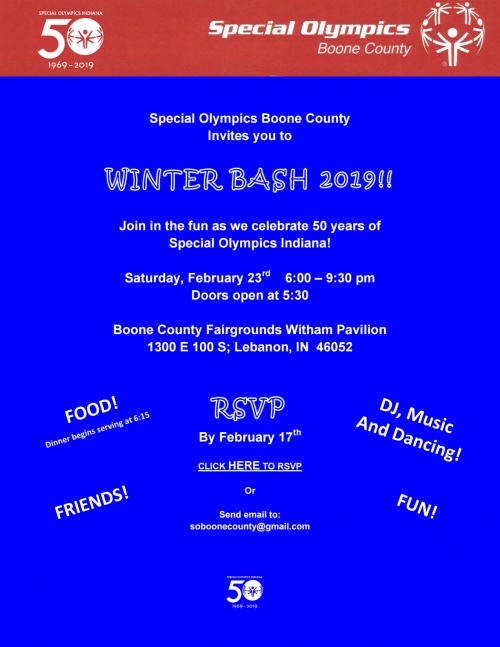 Sports Practice Information
Donations may be made payable and mailed to:
SPECIAL OLYMPICS BOONE COUNTY
P.O. Box 485
Lebanon, IN 46052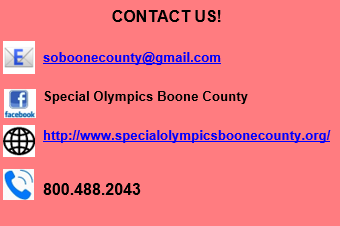 2019 Information from the State Office
Check out this webinar shared by the state office on exciting activities planned for 2019 and the 50th Anniversary of Special Olympics Indiana
UPDATES FOR BOONE COUNTY COMING SOON FOR 2019

SPORTS INFO
Basketball season is underway. GOOD LUCK to OUR TEAMS AT THE WABASH TOURNAMENT ON SUNDAY FEB 3RD. Follow up with your coach for times and court information.
TO SIGN UP OR FOR MORE INFORMATION, SEND EMAIL TO: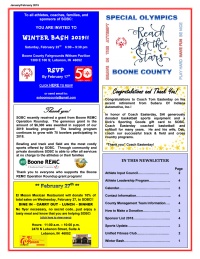 ---
Our 2018 Sponsors & Friends of Special Olympics
Boone County Sheriff's Department
Knights of Columbus, St Alphonsos, Zionsville
Knights of Columbus, St Joseph, Lebanon
Lebanon Eagles Club
Hometown Insurance, Brownsburg